Average American Kitchen Dimensions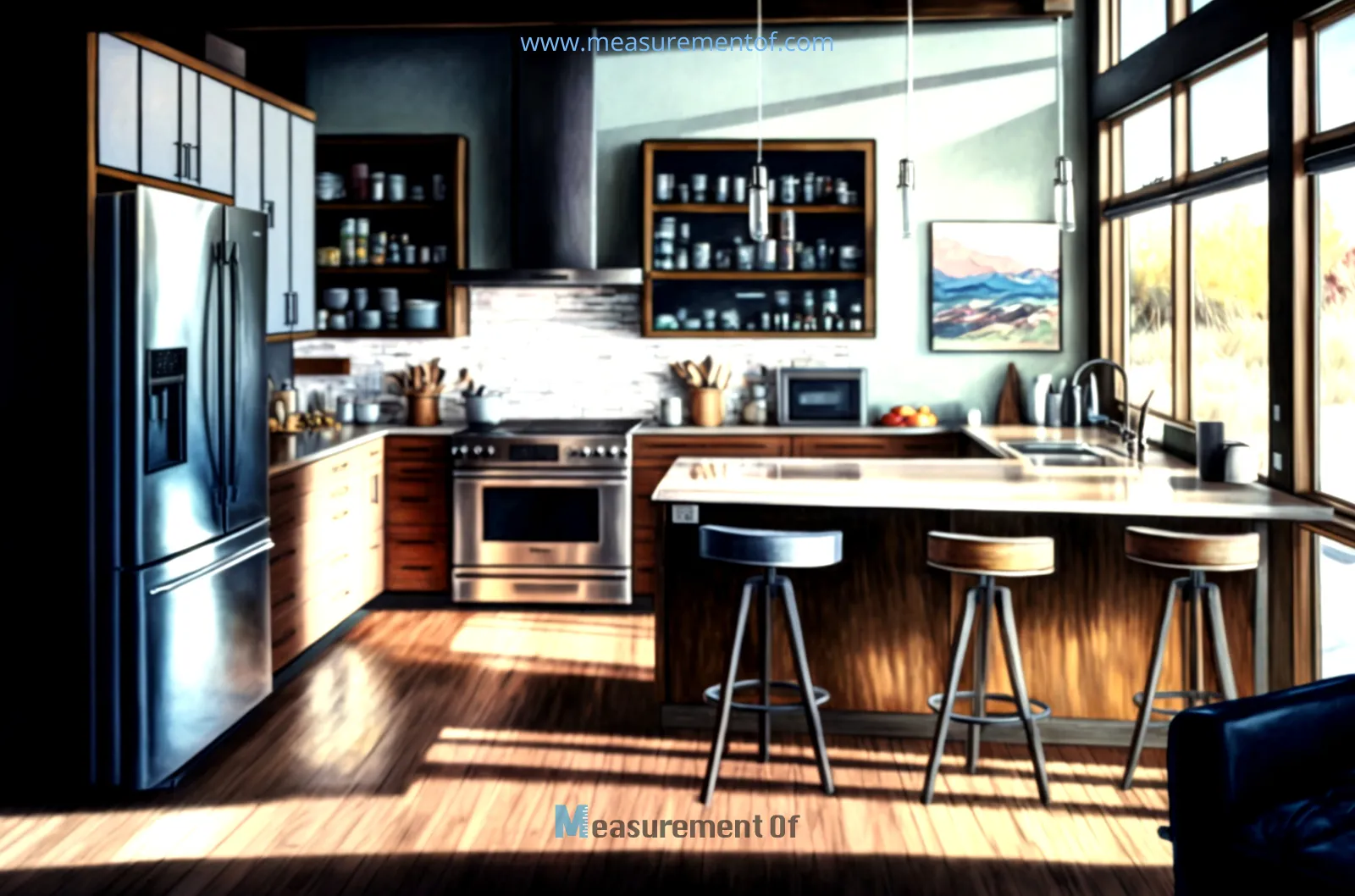 Kitchen is the heart of any home. Its size and layout are the two most important factors in its functionality and usability. As such, understanding the dimensions of kitchens can help homeowners plan and design their own kitchens more effectively. So, are there any standard dimensions for kitchens? And, what are the average kitchen dimensions in most American houses? Let's figure this out.
Types of Kitchen
Before we discuss the kitchen dimensions, let's have a look at different types of kitchens. Each of these types requires a specific dimension to fit. We can categorize them by layouts as follows. 
L-Shaped Kitchen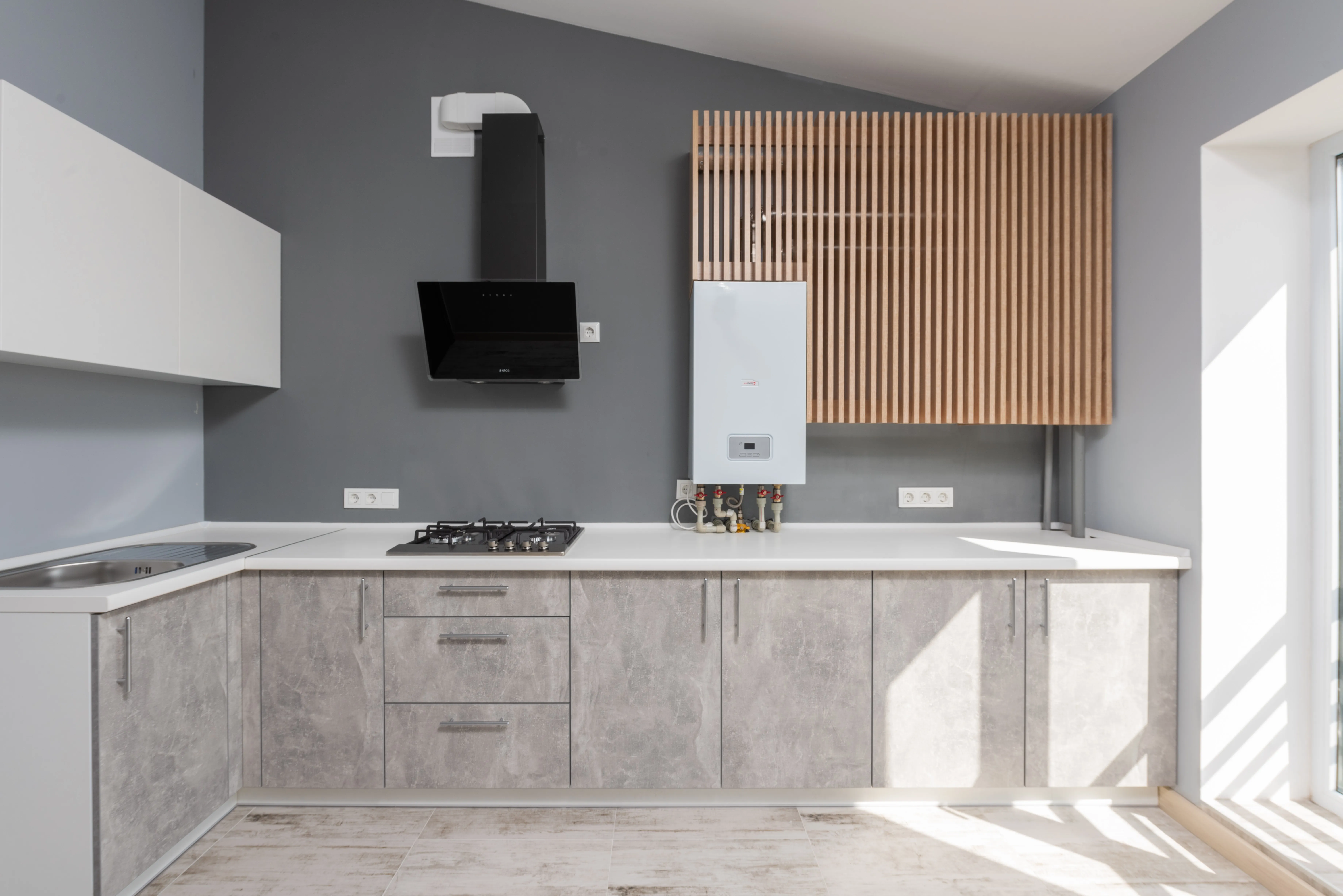 Photo by Max Rahubovskiy from Pexels
An L-shaped kitchen is a layout that features two adjoining walls that form an "L" shape. This design allows for flexibility and efficient use of space. L-shaped setup is good for medium sized kitchens. How to define a medium sized kitchen? Hang on, I will get to it in a minute.
U-Shaped Kitchen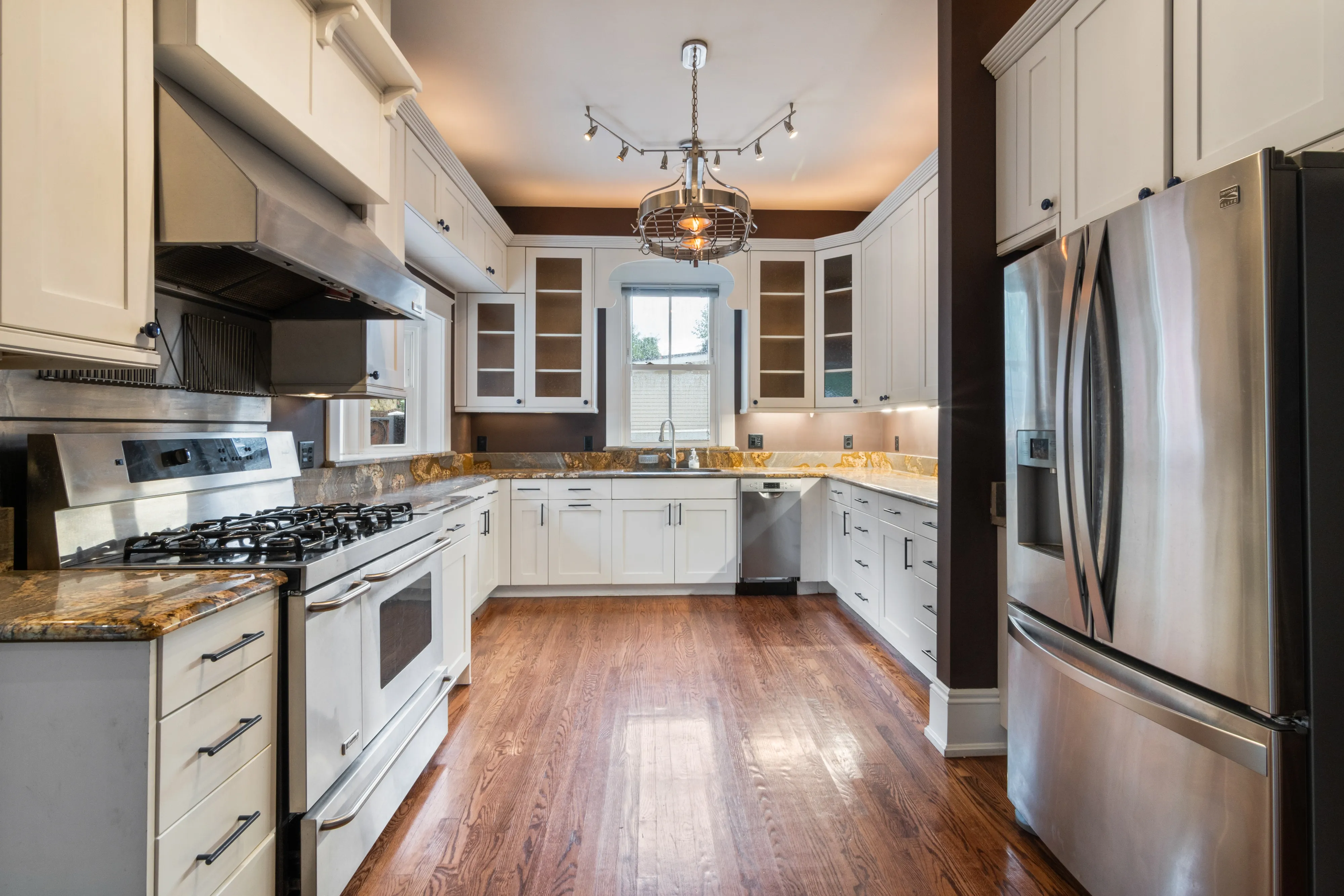 Photo by Curtis Adams from Pexels
U-shaped layouts are combined with three walls that form a "U" shape. This design allows for a lot of counter space and an efficient work triangle. This is usually preferred for kitchens that don't include any dining space.
Galley Kitchen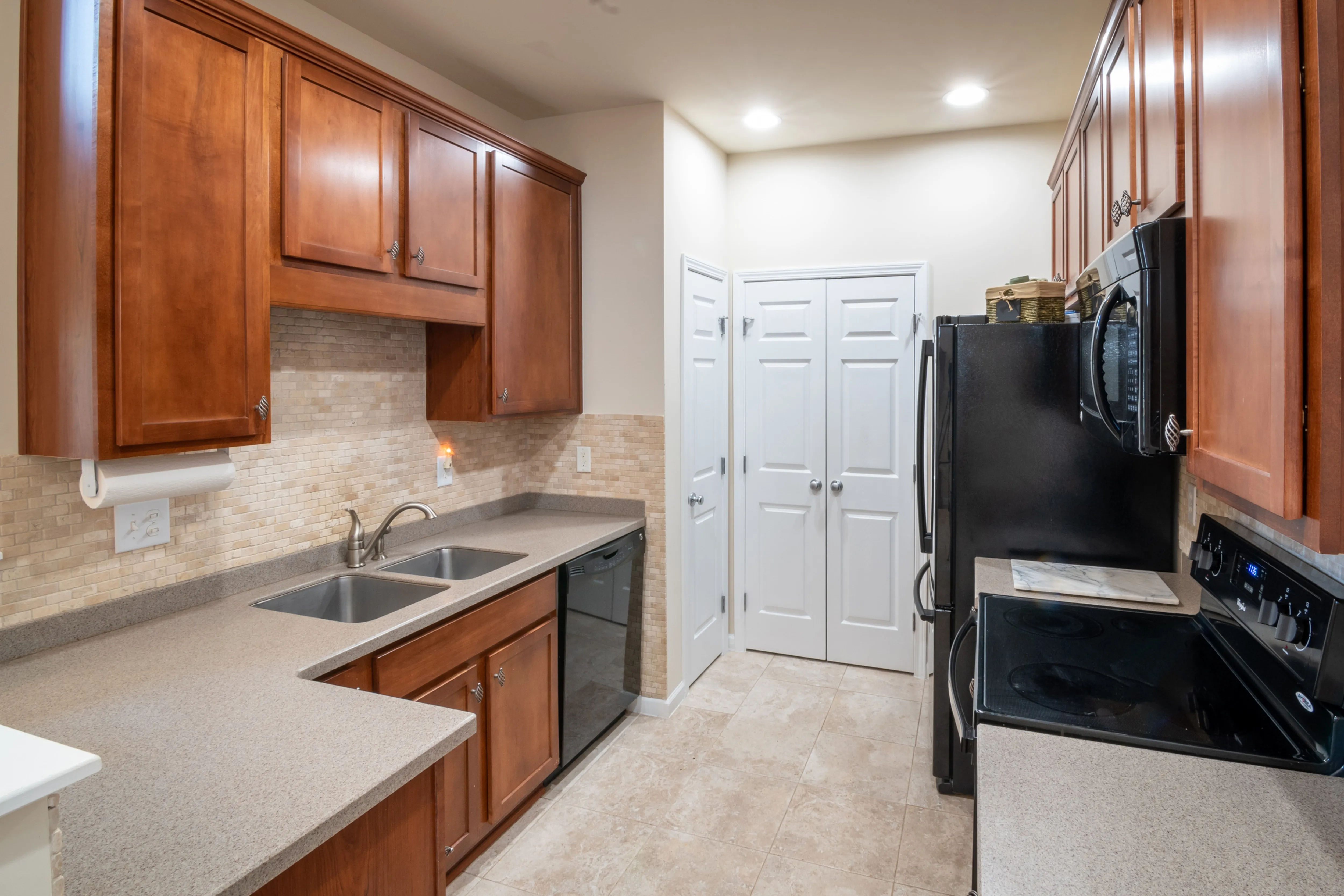 Photo by Curtis Adams from Pexels
A galley kitchen is a long, narrow kitchen with two parallel counters and limited space for movement. These are best for small kitchens.
Island Kitchen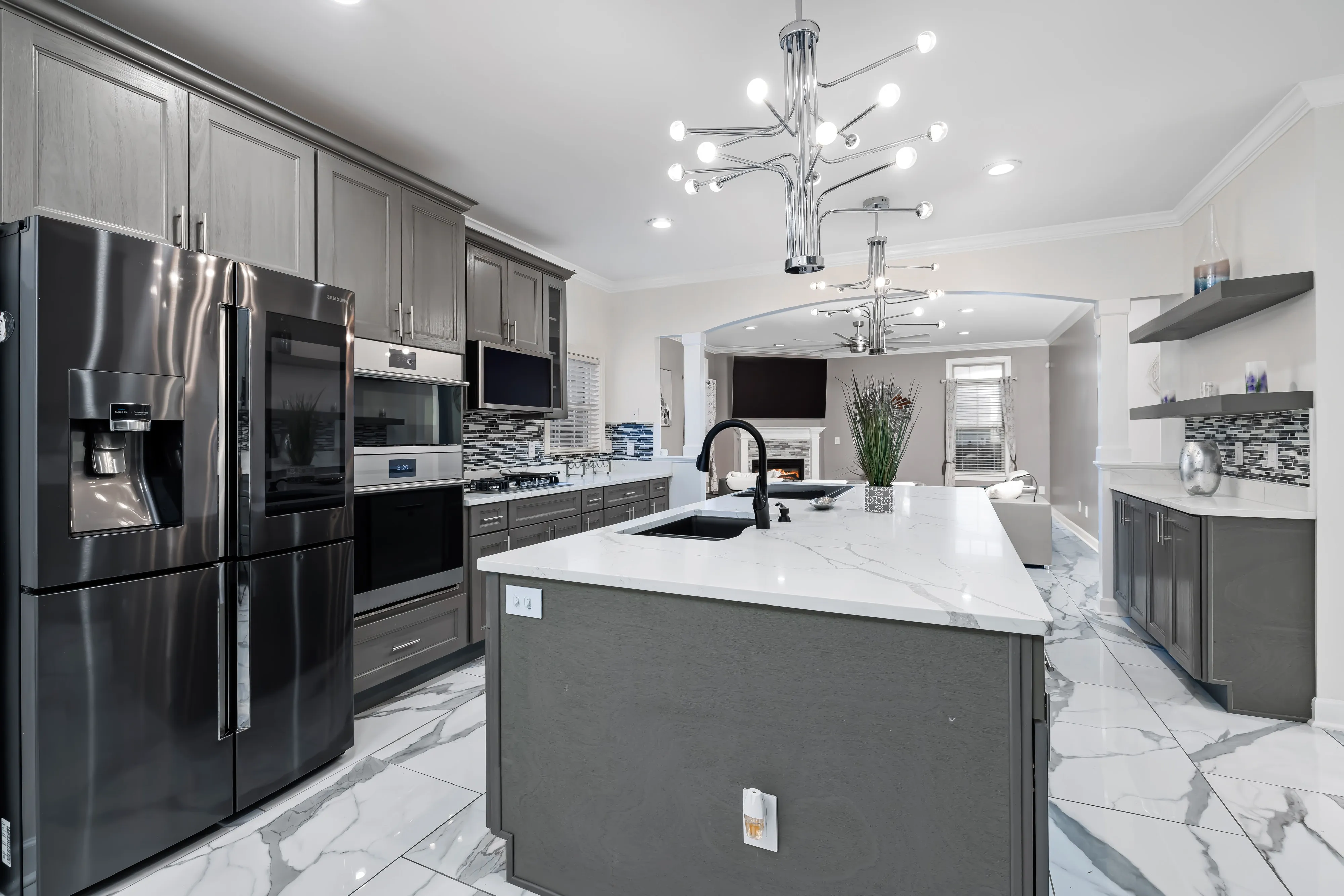 Photo by Curtis Adams from Pexels
This design is popular in open-concept homes and provides a central gathering place for family and guests. As it includes the dining area along with the kitchen, this layout is preferred for large kitchens.
One-Wall Layout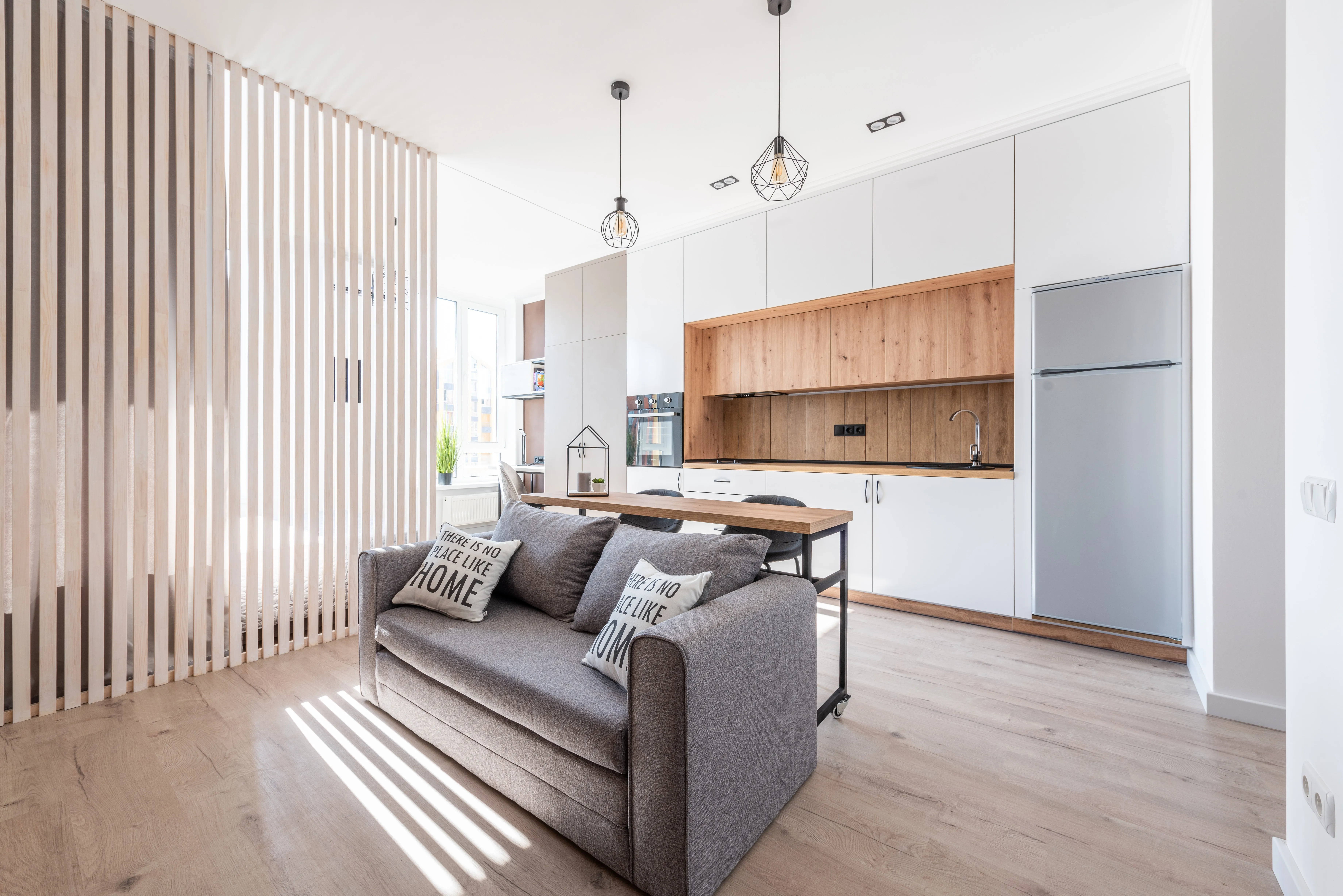 Photo by Max Rahubovskiy from Pexels
One-wall kitchen layouts are compact in setup. In this type, all the cabinets, appliances, and countertops are arranged along a single wall. This type of kitchens are more suitable for lofts and studio apartments.
Open Concept Kitchen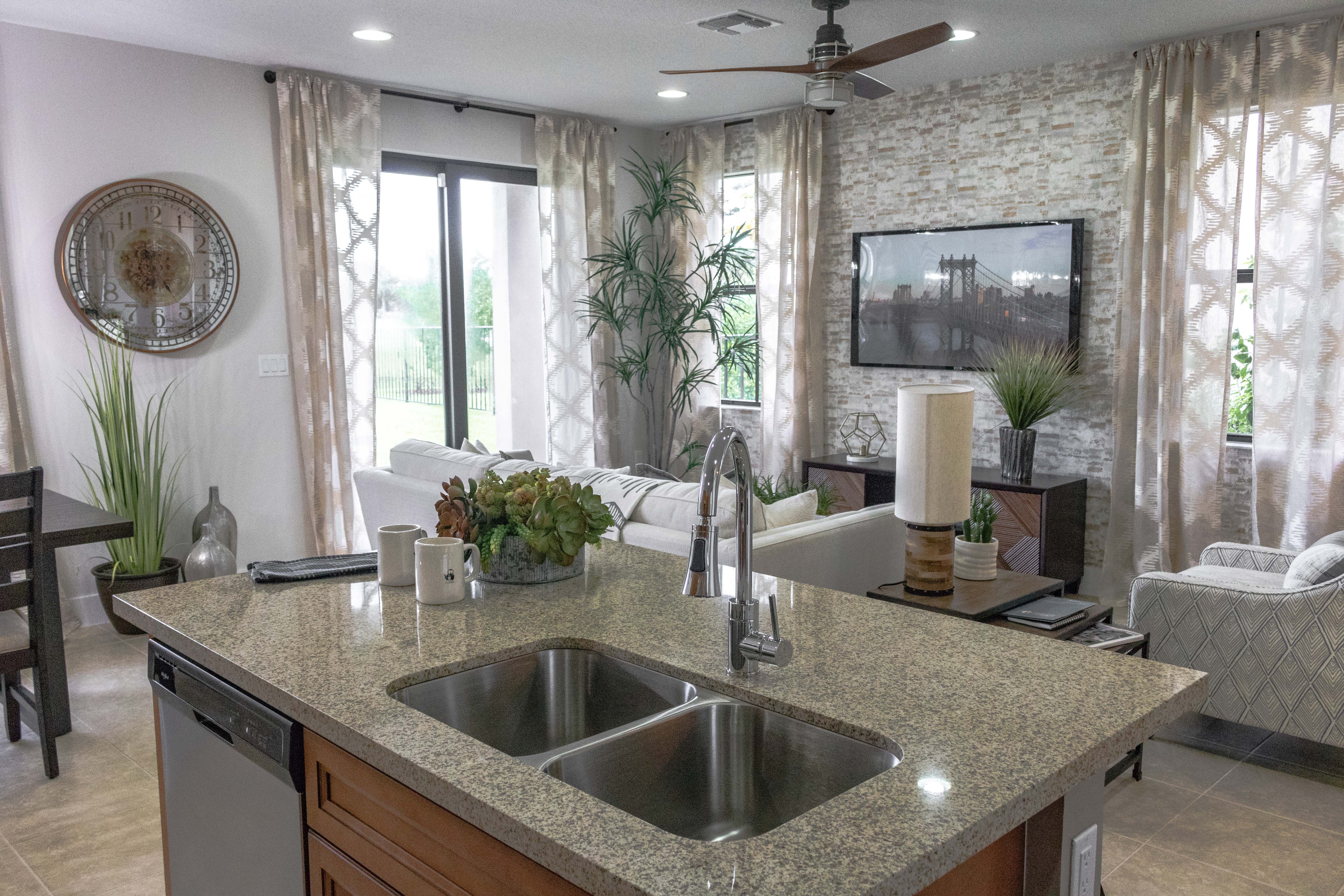 Photo by Terry Magallanes from Pexels
These types of kitchens are designed to flow seamlessly into the living or dining area. It creates a larger, more open space for cooking and entertaining. 
Size of an Average American Kitchen
The size of every home or space varies. Kitchens are the same way. Average kitchen sizes in America vary depending on many factors, such as the region, style of the home, etc. For instance, compared to urban homes, suburban homes typically have larger kitchens.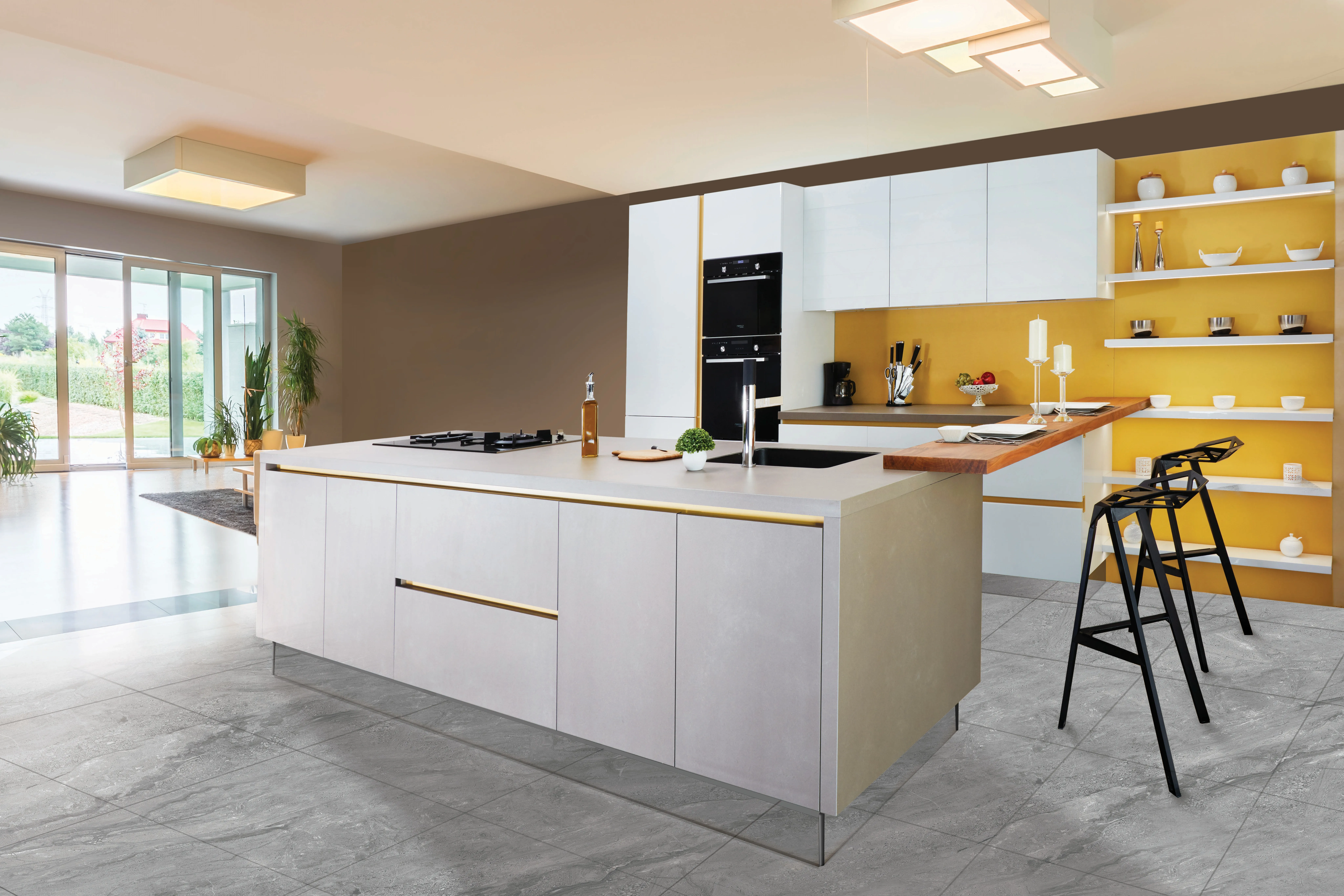 Image by Saviesa Home from Pexels
However, according to the National Kitchen and Bath Association (NKBA), newly constructed single-family homes often have kitchens that are 161 square feet in size. The typical kitchen size ranges from 103 square feet for smaller homes (those under 1,500 square feet) to 238 square feet for the largest households (those with 4,000 square feet or more). 
Additionally, a small kitchen has typically 70 square footage. While medium-sized kitchens are typically between 100-200 square feet.
According to industry standards, a small commercial kitchen for a restaurant (serving 30 guests at a time) should have at least 150 square feet of floor space, while a larger restaurant may require up to 2000 square feet of kitchen space. The formula is to allocate at least 5 square feet of kitchen space to one guest.
A survey of over 700 restaurants conducted by Restaurantowners.com in the US found that the average commercial kitchen is 1,051 square feet in size. 
Minimum Kitchen Dimensions
There are no strict minimum requirements for kitchen dimensions. Because it depends on the region, square footage of the home, and personal preferences. However, there are some general guidelines for designing a functional and comfortable kitchen space.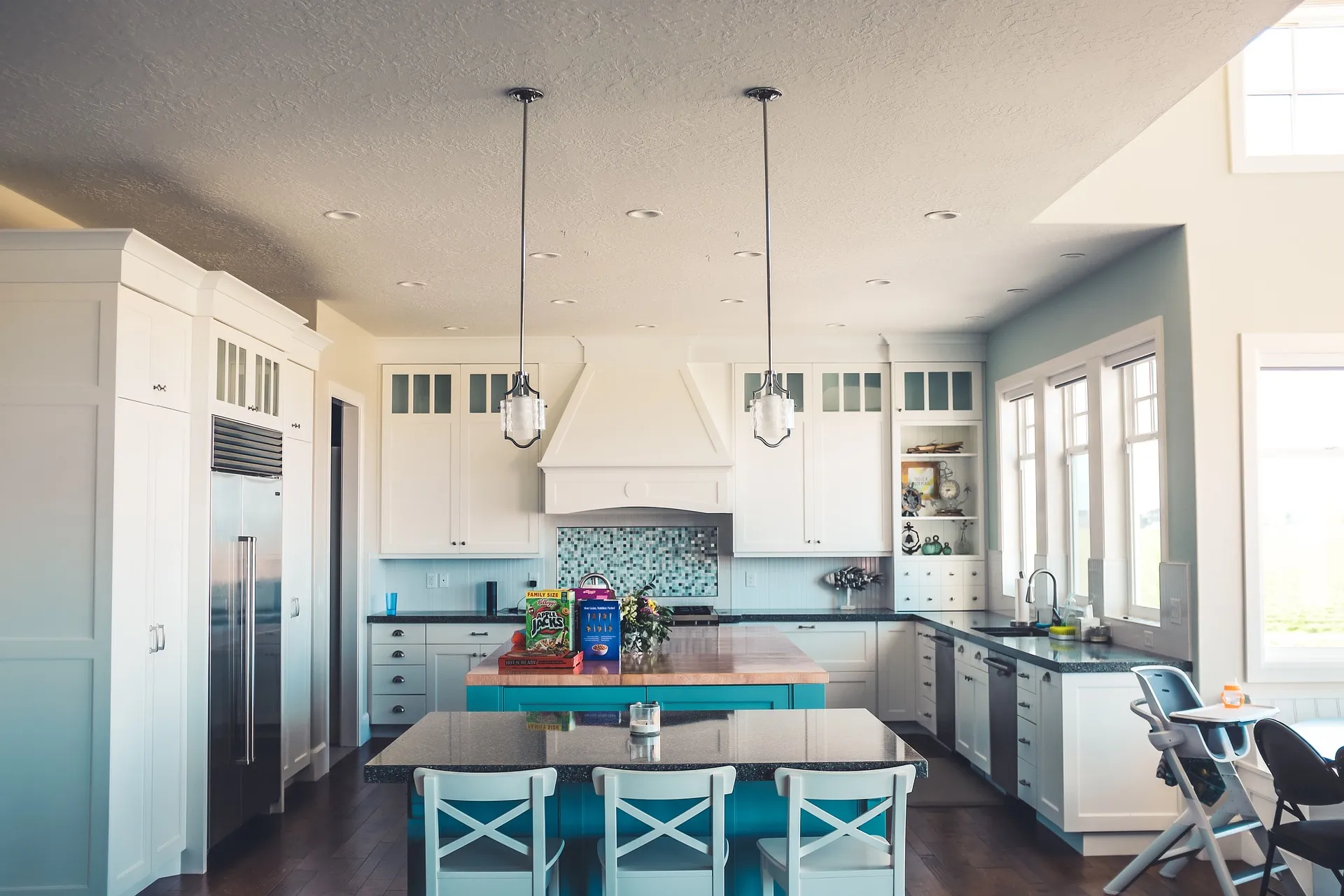 Image by StockSnap from Pixabay
The minimum floor area for a kitchen depends on whether it has an island, a dining area, or a separate store. A standard kitchen should have at least 54 square feet of space. However, if the kitchen has a separate store, then it can be about 48 square feet as long as the width is not less than 6 feet.
A kitchen that is also used for dining should have a floor area of not less than 81 square feet with a minimum width of 7 feet.
The minimum floor space for a commercial kitchen depends on the type of catering activity, the number of seats, and the local regulations. A commercial kitchen with up to 50 seats should have at least 215 square feet of floor space, including the washing area.
Kitchen Layout and Size Summary
| Kitchen Layout | Suitable Kitchen Size |
| --- | --- |
| L-Shaped | L-shaped layout works best for medium-sized kitchens. |
| U-Shaped | U-shaped layout is suitable for medium to large size kitchens. Larger kitchens with enough width can accommodate the counter and cabinet setup for this type. |
| Galley  | Galley kitchen layout is perfect for small kitchens. |
| Island | Island layout is suitable for medium sized kitchens that are about 150 square foot or more. |
| One-Wall | One-wall layout is good for small kitchens. It requires a continuous wall of at least 8 feet. |
| Open Concept | Open kitchen is best for medium or large kitchens. |
What Factors Affect Kitchen Size?
More than anything, the size of your kitchen will depend on your preferences. Besides that, some of the key factors that could affect your kitchen size-
1. Available Space
As mentioned before, kitchen size depends on your home's square footage. Whether it's a house with standard dimensions or it's a small house or apartment, it'll determine your kitchen size.
2. Kitchen Layout
The layout of your kitchen plays a significant role in determining its size as well. For example, Island kitchens require larger space, while L-shaped layouts require comparatively smaller space, about 111 square footage on average.
3. Structural Limitations
The size of the kitchen may be limited by structural elements such as load-bearing walls or the location of plumbing and electrical outlets.
4. Appliances
Finally, you'll need to consider your appliances when deciding your kitchen size. The most common appliances are - refrigerators, ovens, stovetops, and dishwashers. So, make sure your kitchen can accommodate all your appliances.
Different Design Styles for Kitchens 
Apart from different layouts and dimensions, there are many styles to design kitchens. Here are some of the most popular styles you might want for your kitchen:
1. Traditional
A traditional kitchen design style features classic and timeless elements. Raised-panel cabinets, ornate moldings, and decorative hardware are some of the essential elements of this style. It often incorporates warm, natural materials such as wood and stone.
2. Contemporary
Looking for sleek and minimalist kitchen? Contemporary style is what you are looking for. Clean lines and a neutral color palette define this kitchen. It often incorporates flat-panel cabinets and modern materials such as glass, metal, and concrete.
3. Industrial
An industrial kitchen design style stands out with its raw and edgy aesthetic. Exposed brick walls, metal pipes, and concrete floors characterize it. It often incorporates salvaged materials such as reclaimed wood and vintage lighting fixtures.
4. Mediterranean
In the Mediterranean kitchen design style, warm and vibrant colors are used. This style features ornate tile work and wrought iron accents. It often incorporates natural materials such as stone and clay.
5. Country
Country styles kitchen prioritizes coziness. Exposed shelves, glass door cabinets, hardwood floors, and natural colors are prominent features of this style.
Is Modern Kitchen Size Different Than Before?
Well, preferences change. It changes with time and the ever-changing lifestyle. The same goes for kitchen sizes. The average size of modern kitchens has significantly increased over the years.
In the past, kitchens used to be small and practical spaces. Mainly used for cooking and food preparation. While dining and entertaining took place in separate rooms. A 70 square feet kitchen was commonly found in homes as an average size, but it is now considered a small kitchen irrespective of the square footage of the house.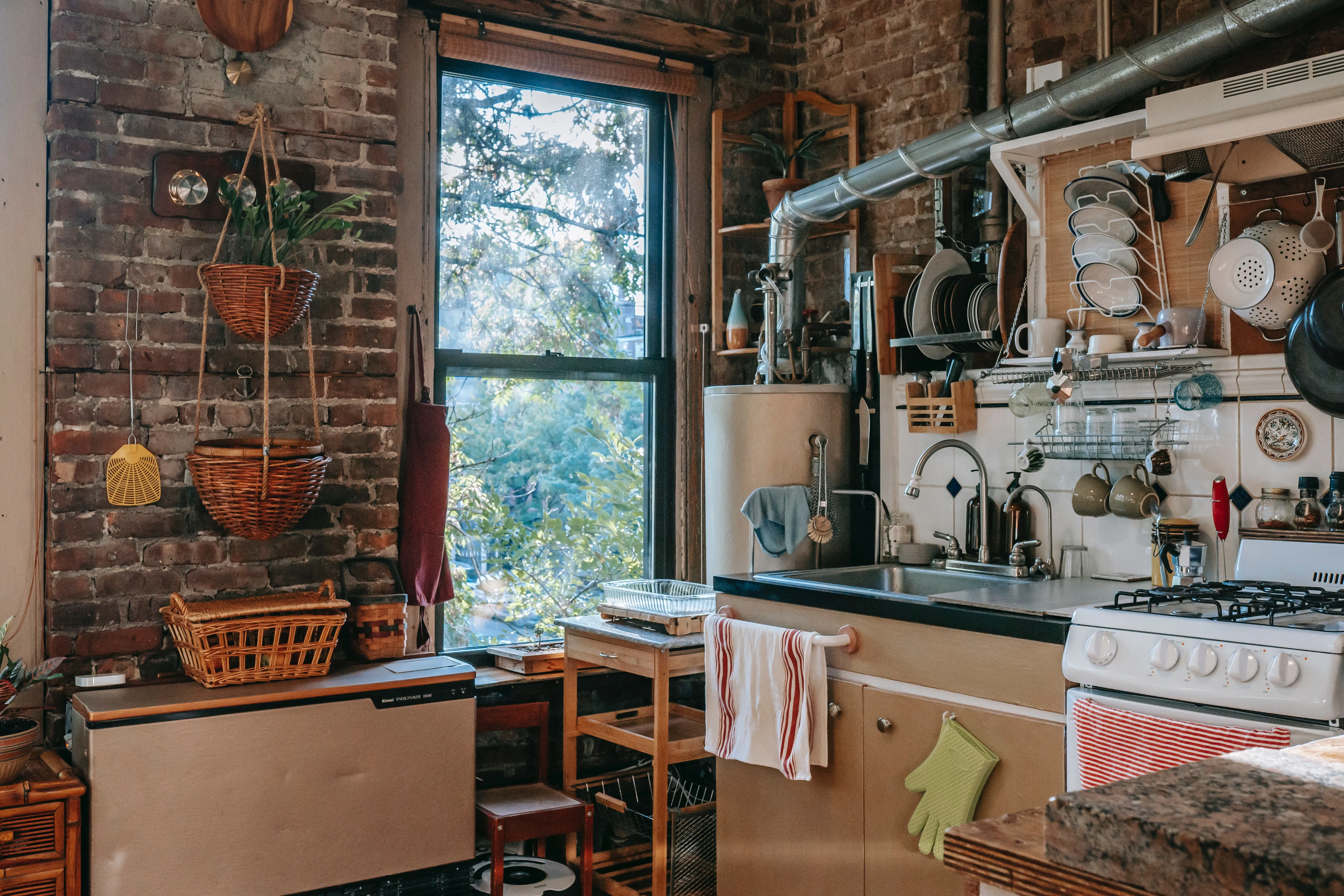 Image by Charlotte May from Pexels
However, open-plan kitchens are becoming trendy, as people now prefer larger and multi-functional kitchen spaces with islands, breakfast bars, or other gathering points for socializing.
Another factor contributing to the larger size of modern kitchens is the availability of larger appliances, such as refrigerators, ovens, and dishwashers.
Best Practices in Designing Your Kitchen
Designing a kitchen can be difficult. It is a complex process that involves a multitude of factors. But following some guidelines can help you save you from headaches in the future. Here are some best practices to consider when designing your kitchen.
Plan Your Layout Carefully
Select a layout that works well with your space. Factors like traffic flow, the work triangle and the location of electrical and plumbing outlets are important to consider here. Work Triangle is the distance between the sink, stove, and refrigerator.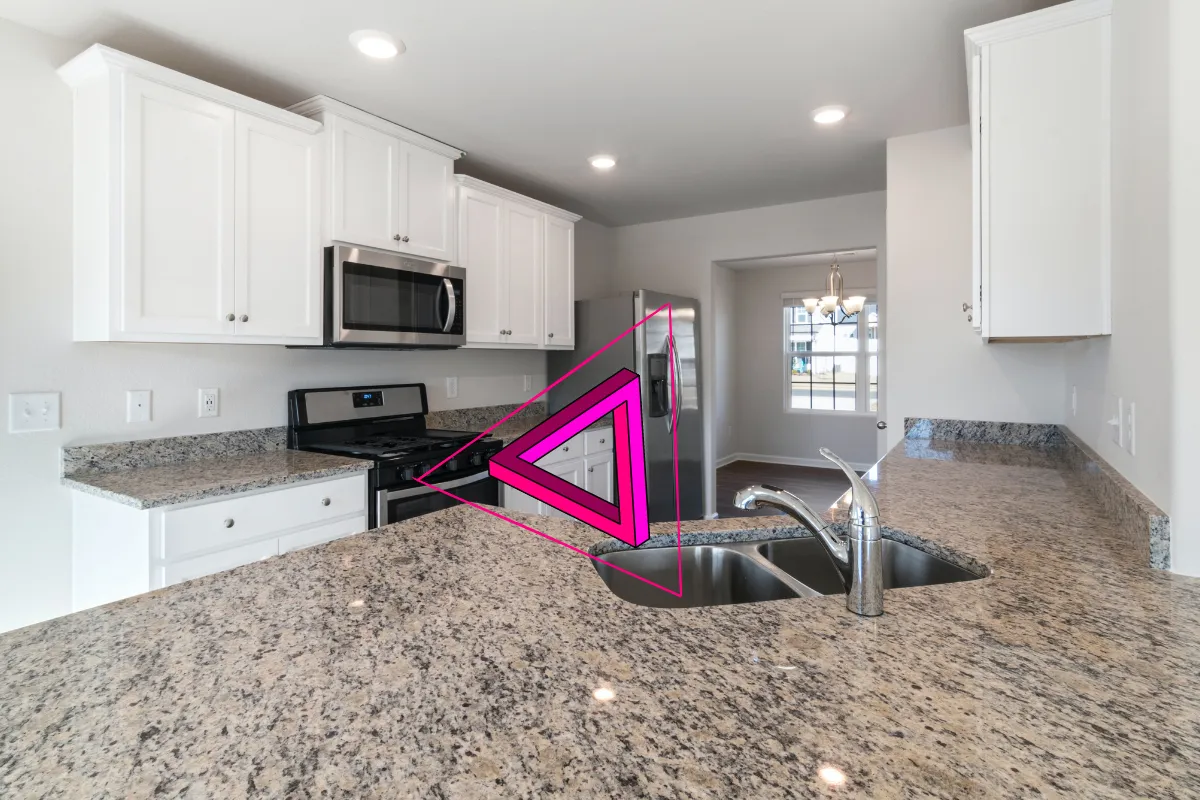 Photo by Curtis Adams from Pexels
Focus On Functionality
Choose appliances and fixtures according to your kitchen size and capacity. It'll help you design a functional and efficient kitchen. A functional small kitchen is much better than a messy large kitchen! When designing shelves, give top priority to the main user's height. Although average height works well for most, some may need lower or higher shelves.
Maximize Storage
Plan your storage carefully to maximize your available space. Consider factors such as the size and number of cabinets, drawers, and shelves, and how they will be organized. Use pull outs to maximize use of corner space.
Consider the Lighting
Make sure you have enough lighting sources in your kitchen. Prioritize natural lighting. Consider the placement of light fixtures, bulb types, and the level of illumination.
Choose Durable Materials
Choose materials that are durable and easy to maintain. Such as granite or quartz countertops, hardwood or tile flooring, and stainless steel appliances.
Don't Forget the Details
While selecting fixtures and accessories, keep in mind the details. For example, you should choose monochrome hardware and gray or black cabinet if you are planning an industrial style kitchen. 
For a Mediterranean style kitchen, you may select bold and vibrant color palette. In short, consider the coherence of all your kitchen ideas.
How the kitchen will look as a whole should be perceived before making the final decision. 
Get Professional Help if Needed
If you're not sure enough about which kitchen layout or design you should choose, seek professional help. Professional designers will help you all along with planning and designing your kitchen.
Conclusion
The sizes of American kitchens vary depending on budget and personal preference. Knowing the standard dimensions can help in planning and designing a functional space. Ultimately, the goal should be to create a comfortable space at our homes. If you are thinking about other room dimensions guide, here's one for you.